Youth Group
We invite all youth between the ages 12 and 18 to join us as member of our Youth Group. Our get-togethers are held every Saturday at 4 pm in or around our church.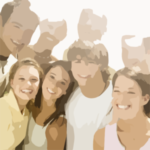 Ifjúsági Kör
Szeretettel hívunk minden fiatalt, 12 és 18 év között, hogy csatlakozzanak Ifjúsági Körünkbe. Közösségi óránkat minden szombaton délután 4 órai kezdettel tartjuk meg a templomunknál vagy annak környékén.
During our get-togethers we get to know each other, play games, hold a short bible study and learn new songs. Our other activities include: bowling, playing ping-pong and tennis, skiing, movie afternoons and many other activities.
If you have any questions or would like some information about our next meeting, please call
Rev. Ötvös at 732-979-5640
Az órák alatt ismerkedünk, játékokat játszunk, rövid biblia magyarázatot tartunk és új énekeket tanulunk. Különböző programjainkat együtt tervezzük meg tagjaink ötletei alapján, mint például: kuglizás, ping-pongozás, teniszezés, sielés, mozidélutánok és sok más műsor.
Kérdéseikkel és információért a következő összejövetelünkről, kérjük hívja
Nt. Ötvös Zsoltot a 732-979-5640 - as telefonszámon.